Reliable screw conveyors for transportation, discharge and dosage
FM Bulk Handling – Fjordvejs screw conveyors are particularly robust and reliable. They are built to run all day long, every day of the year. An screw conveyor is a wise solution when transporting, discharging and dosing many different products.
Tubular screw conveyor or trough screw conveyor?
Screw conveyors can be tubular or trough type. No matter which of the two types you require, FM Bulk Handling – Fjordvejs can do the job for you.
Our screw conveyors are made of heavy-duty materials that are painted in RAL colours, hot-dip galvanised or made of stainless steel (AISI 304 or AISI 316). Bearings and bushings etc. are of the highest quality.
Capacity
Standard capacity for our screw conveyors is 9-250 m3/hour. Should you have other requirements, we can also manufacture screw conveyors to custom dimensions. Standard screw diameter is between 125-700 mm, but we make them up to 1,000 mm in diameter if required.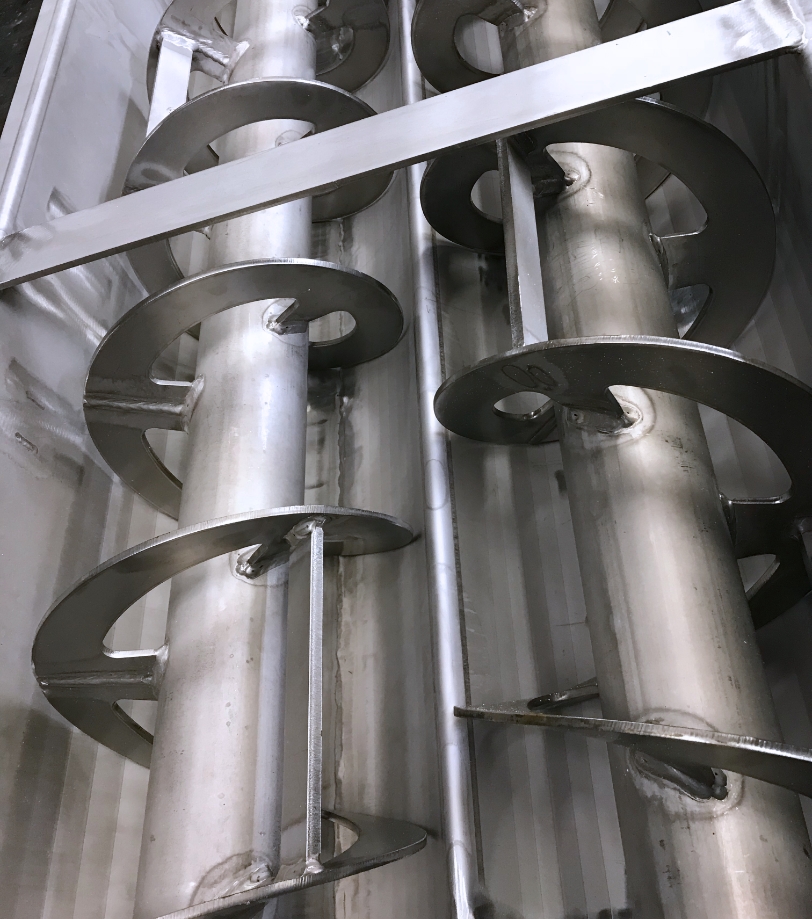 Standard to FM Bulk Handling – Fjordvejs screw conveyors
The screw is a heavy-duty welded segment construction
Elevation angle is customised according to materials and capacity
The central tube is very heavy-duty as this minimises the number of intermediate bearings/hard oxidised rails required
Intermediate bearings can be lubricated and are normally at intervals of one every three metres
Clockwise screw pitch Anti-clockwise screws are available if required
End bearings on an FM Bulk Handling – Fjordvejs screw conveyor are mounted to the trough itself. These can be upgraded with special axle seals if so required
Overflow system with switch and safety cover
Motors are mounted by default at the outlet end, but can be fitted to the inlet end if required
Lid edges on our screw conveyors are at a downward angle to prevent water ingress. 30° lids are also avail-able and assure good water repellance on outdoor installations
How your screw conveyor can be customised
Special hard oxidised rails can be fitted as an alternative to intermediate bearings in tubular screw conveyors. This produces unhindered flow through the tubular screw conveyor
Hinge and openable base makes it easy to completely clean/empty the tubular screw conveyor
Dosage screw conveyors for emptying containers and silos
When emptying containers/silos containing products with difficult flow, we recommend that two or more dosage screw conveyors are installed to the base.
ATEX
If required, FM Bulk Handling – Fjordvejs can supply screw conveyors to ATEX standards.