We put our energy into the development of your chain conveyor so you can save energy when running it
A chain conveyor from FM Bulk Handling – Fjordvejs is an energy-efficient and reliable solution. It will reliably move your products all day long, every day, all year round without damaging them and without unnecessary down time.
Our products are always manufactured using tough materials that can withstand daily operations for many years. These materials include steel painted in your preferred RAL colour, hot-dip galvanised or stainless steel, AISI 304 or AISI 316. Our machines are designed to operate 24/7, 365 days a year.
Chain conveyor
A lot of people call chain conveyors "redlers". We call them chain conveyors, but they are the same type of machine. If a redler is what you require, then our chain conveyors are the ones to choose. If you prefer to call it a redler that's perfectly fine with us.
Capacity
FM Bulk Handling – Fjordvejs chain conveyors have a standard capacity from 5-900 m3/hour. If you require greater capacity or have other requirements, we are able to manufacture them in custom sizes.
Self-supporting up to 20 m
An FM Bulk Handling – Fjordvejs chain conveyor can support its own weight for spans up to 20 m. This means that no additional support/pillars are required when, for example, the chain conveyor is required to span from one building to another or cross a driveway.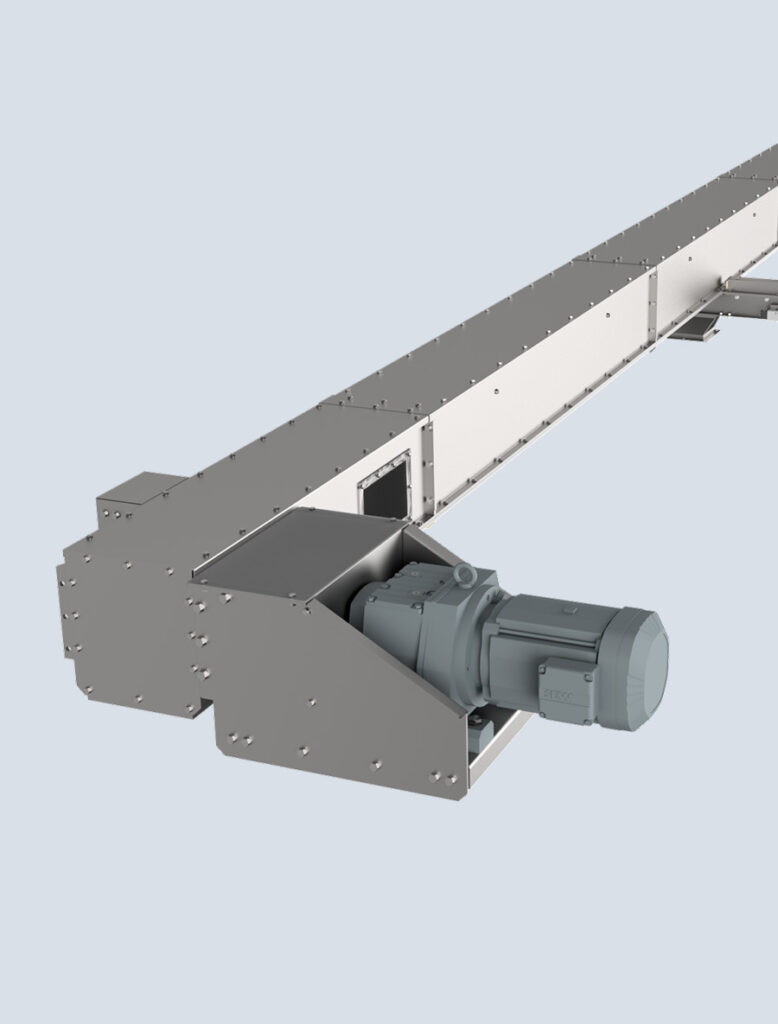 FM Bulk Handling – Fjordvejs chain conveyor standard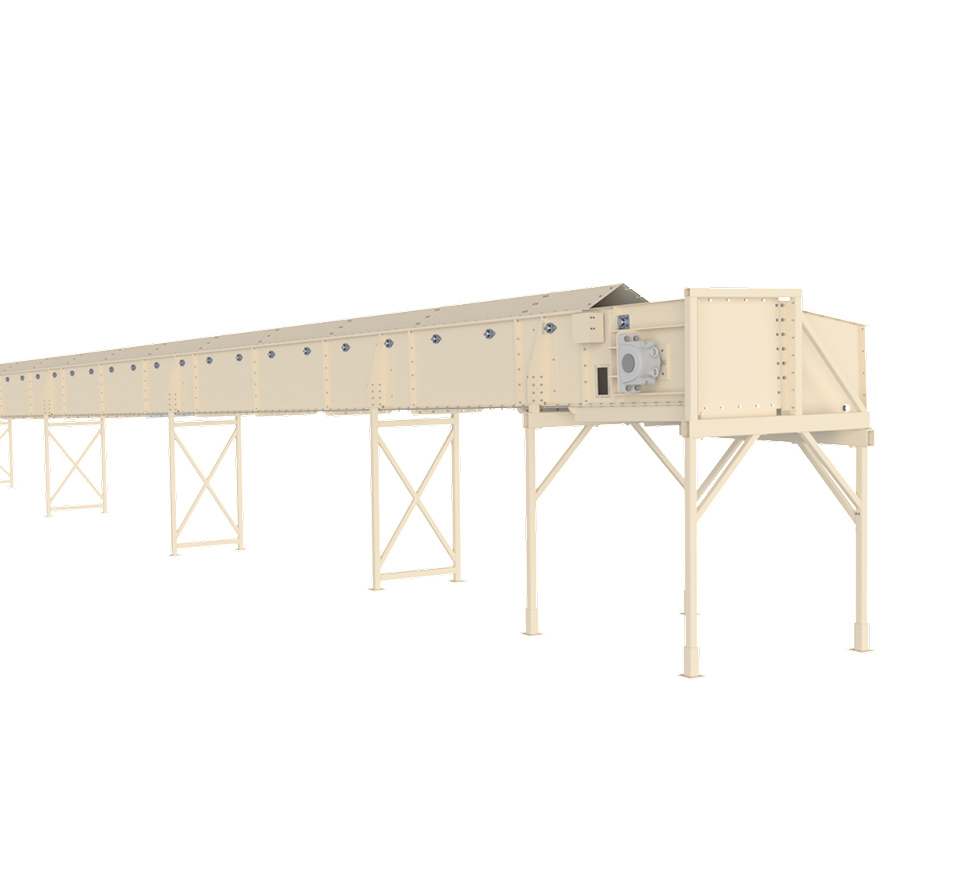 The chain is normally supplied as a scraper chain with steel retainers. Other types of chain and retainer can be selected, depending on the type of material you need to transport.
The bottom always has a 10 mm Nonfric wear plate to protect against wear. This ensures a long service life and makes the machine quieter.
The installation of an intermediate bottom to a chain conveyor makes it possible to prevent the bridging of materials that can be difficult to keep under control, such as fish meal , soya, meat and bone meal etc. The intermediate bottom always has a 10 mm Nonfric wear plate. For sticky products like fish, meat and bone meal, we offer alternative intermediate bottom coatings to Nonfric.
The intake pit can be supplied with a non-slip grid for vehicles that can withstand wheel loads of up to 8 tons.
Suspended or on legs: Your chain conveyor can stand on legs or be suspended from mounts. It's up to you. Legs and mounting brackets are fitted to the sides of the chain conveyor, allowing the removal of the bot-tom plate, such as when replacing the Nonfric wear plate when it is worn out.
Motor
We use different types of gear motors for our chain conveyors, depending on materials, capacity and running time, or if you have specific requirements:
Helical gear motor
Parallel shaft helical gear motor
Helical bevel gear motor
Our motors are fitted to heavy-duty motor brackets.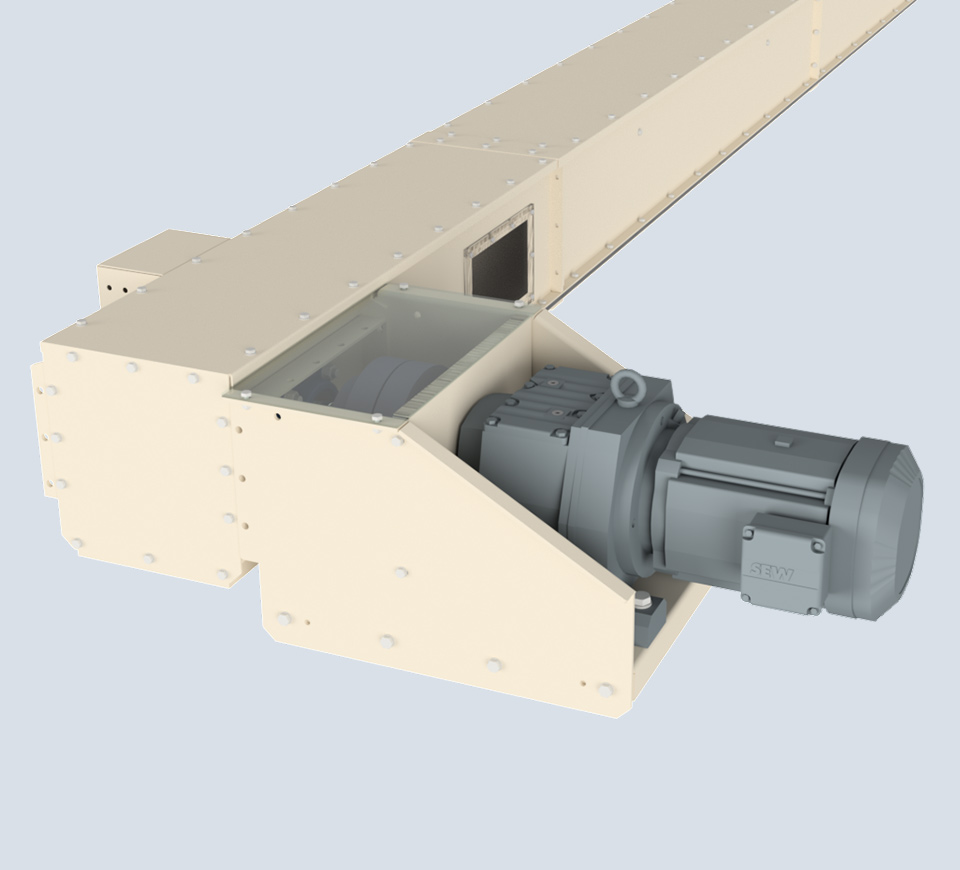 Chain conveyor customisation options
FM Bulk Handling – Fjordvejs chain conveyors can be supplied with the following equipment:
Overflow flap with switch
Speed monitoring protection
Inspection porthole
Return rail
Aspiration connector
Side inlet
Double base for intake pit with integrated chain conveyor in the intake
Reversible drive terminal - if you want to run a long chain conveyor in both directions
Round return end prevents material from sticking or accumulating. The return end has a 10 mm Nonfric wear plate.
Split sprockets mean easier service and maintenance without necessitating gear motor and axle removal
30° cover, for improved water repellency. For long free spans, a 30° cover is always fitted.
Outlet shutter: manually operated, pneumatic or with gear motor. All have indicators. The shutter brush can be loose-hanging for light products or operated pneumatically when working with difficult or heavy materials.
Return buckets to carry residue back to the selected outlet
If required, FM Bulk Handling – Fjordvejs can supply chain conveyor to ATEX standards.