Low impact on feed, the environment and workplace health and safety
An FM Bulk Handling – Fjordvejs ship loader is an extremely effective and low-impact system for loading ships from the harbour such as with fish feed pellets. When fitted to a ship, our ship unloader provides equally effective and low-impact distribution of feed into silos on the water at the individual farms.
Many advantages with ship loaders and unloaders
It is no coincidence that we are the first choice supplier for the management of finished fish feed pellets to customers who are concerned about the quality of the pellets they receive.
Minimal crumbling thanks to low-impact management, which means minimal waste and pollution
Better health and safety – produces less dust than traditional blower systems
Reduced energy consumption
Saves time when loading and unloading
Capacity and range
Our ship loader and ship unloader can load and drop up to 330 m3/h.
Reach is up to 28 m.
Standards for ship loaders and unloaders
We ensure low-impact transportation from factory to ship and from ship to silo on the feed surface.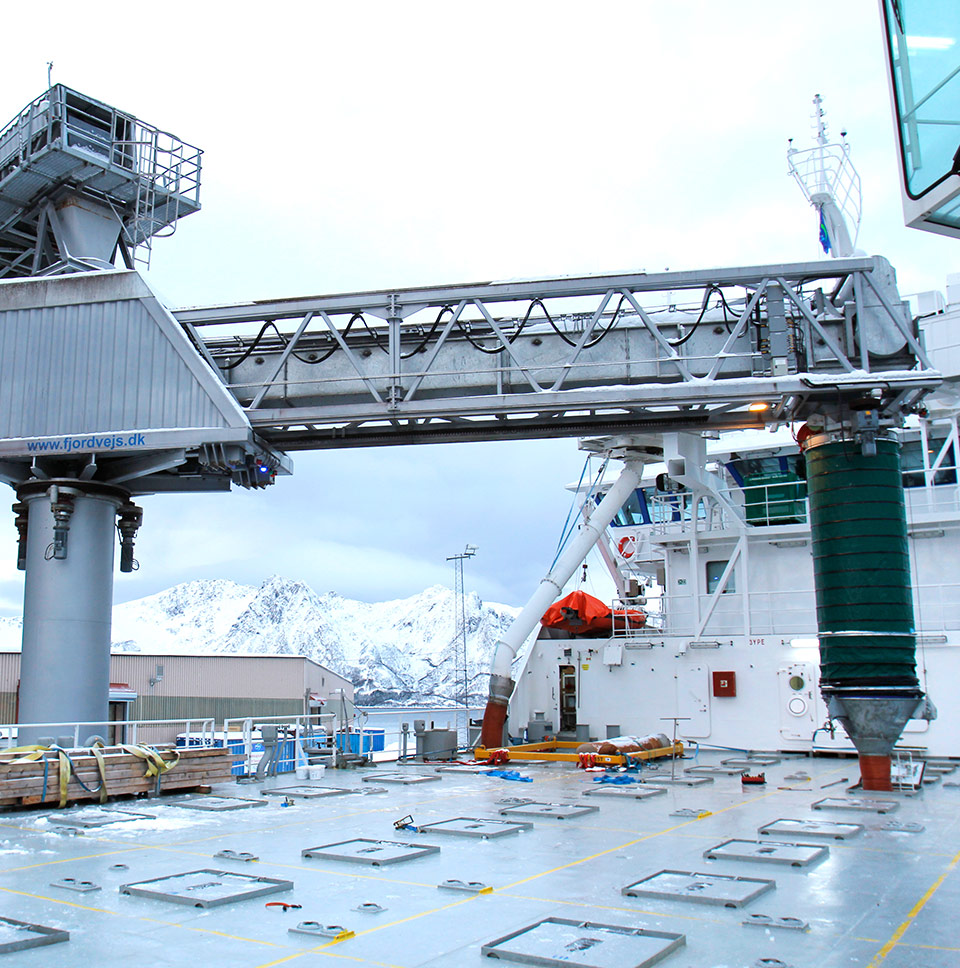 Low weight. The weight of our ship loaders and unloaders is kept low by using a special construction. This stabilises ship load distribution.
Chain conveyors, specially designed to transport feed pellets to our ship loaders and unloaders
Bucket elevators, screw conveyors and other equipment are likewise designed for low-impact feed pellet management
Additional options from FM Bulk Handling – Fjordvejs:
We also install low-impact big bag emptying stations when pellets on board the ship are in big bags
Each system is designed around the ship's design and layout – and is customised to the requirements of each shipping company and feed manufacturer
Also suitable for loading and unloading fish meal
Our ship loader is also used to load and unload fish meal. The capacity here is also up to 330 m3/h.